Anti-tailgating solution
If you have a large office you probably put in guards, security cameras, access controls, and other industry-standard equipment. Despite these best practices, the system will not be foolproof. The weakness is going to be tailgating. Anyone can get access to your facilities simply by following somebody who swiped their card or badge at an entrance turnstiles.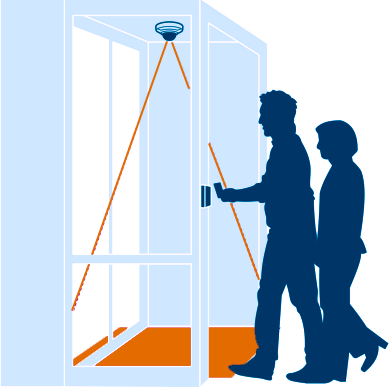 After looking at Camlytics people-counting technology, you will be instantly optimistic that it would greatly reduce - if not eliminate - your tailgating problem. Camlytics has two solutions for the problem: one is really simple and straightforward and another is for larger scale infrastructure with the possibility to integrate into current access control system.
Solution 1
A simple solution for those who do not want to do any custom integration with own security access control system.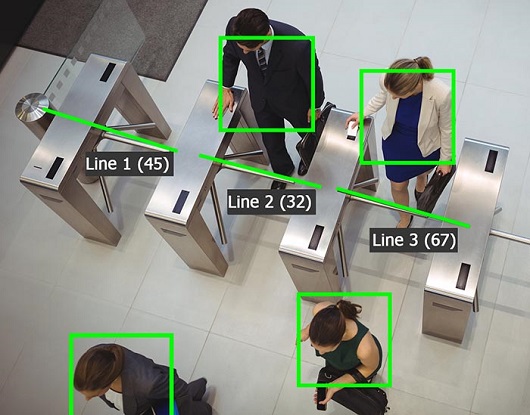 For example, if you have an access points and an overhead cameras over them, you can trigger Tailgating events by checking the Tailgating box in the crossing line channel configuration. After saving your settings you will start receiving tailgating events once two persons cross the counting line with short enough time interval. You can enable screenshots for those events or configure event recording in order to be able to view the exact moment of the suspicious behavior and then take action accordingly.
In the event list below you can see that line 1 was crossed by objects 632, 633 and then by objects 635, 636 with very short time interval thus generating two Tailgating events that are accessible to view by a screenshot or a short video recording.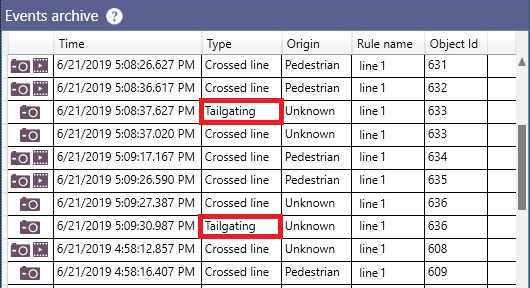 Solution 2
A more complicated, costly and more accurate solution that requires custom integration. The integration would include connecting to Camlytics camera events API to receive real-time channel events data from the counting lines as well as connecting to your own access control system data in order to retrieve the number of employee/visitor card swipes. After that, the data from Camlytics counting and from your access system card swipes can be compared against each other. Once you detect multiple Line crossed events for a single card swipe you can raise alarm because most likely the tailgating took place at that moment.
Such integration would require custom software development. If you do not have a dedicated software engineer our team is here to help at a very affordable rates.
Conclusion
Camlytics provides a very simple, efficient and extremely low-cost software solution for your tailgating problem. You can start detecting tailgating from your already installed camera system in no time! If you have tons of video footage where you want to detect all tailgating occurrences - you can do that with Camlytics! Just run the file channel analytics on pre-recorded video files and folders and get huge batches of files processed unattended.
Try for free Contact us Other solutions
Check out our YouTube channel which has plenty of real-life video analytics demos.
Our clients