People counting solution
Camera people counting solution is an AI video analytics software for offline auditing how many people enter and exit a retail, library, museum, casino or other premises. Analyze motion in zones where sensor based solutions are useless (streets or open spaces).
With a high ROI and a very fast payback time, our solution is used by brands, public institutions and international organizations alike. The information our people counting software provides is used at all levels of businesses, from planning front-line activities to setting overall strategy.
No extra hardware installation, devices, sensors, or specific IP camera models required.
The solution relies on the camera system that was previously installed for surveillance, recording or any other purposes. You don't have to spend a fortune on sensors purchasing and installation.
Any IP camera model with RTSP stream capability would be supported. Our software can work where sensor solution can't because of a much wider field of view in a regular camera compared to a sensor.
You can even connect a webcam or run analytics on a pre-recorded video files (with Camlytics Single product).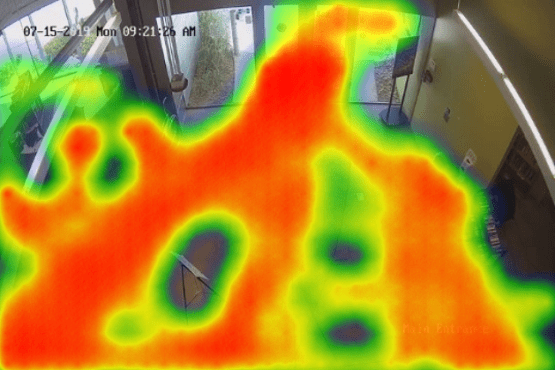 Customers are the best indicators for location performance because dwell times within the measuring area show what's more interesting to them and what's less so. Their behavior allows you to draw valuable conclusions for optimizing and maximizing your location's success and efficiency.
Heatmaps can be normalized and compared across multiple cameras to get better quantative statistics of your areas.
All in one cloud platform can collect data from thousands of cameras across different locations and does not depend on your bandwidth because only text metadata is transferred, video analytics is done on premises and no video data is ever transferred to the cloud (full privacy).
Unlimited possibilities of reporting, charts, dashboards sharing, team work and customization.
Current occupancy monitoring with digital signage is also possible (can be useful for entrance signs or alerts to show if maximum capacity is reached).
Low video resolution does not affect the accuracy, in fact, the lower the resolution - the better performance you are going to get, 360p is just fine.
Thanks to our advanced AI algorithms, camera orientation does not significantly affect the people detection capability. The software would work with a wide range of camera angles.
All Camlytics products support events API and webhooks (you can receive such events, as Line crossed, Zone joined, Motion started, etc.). If you are looking for a cost-efficient solution for people counting and don't want to waste your money on extra sensor hardware or any devices - look no further, Camlytics is a way to go.
Try for free
Counting reports demo
If you are looking for the software for vehicle counting, speed detection and vehicle type classification (pedestrian, car, bus, bike, van, truck), Camlytics is offering it as one of the solutions.
Check out our YouTube channel which has plenty of real-life video analytics demos.
Our clients