Queue counting solution
Queue counting solution is a video analytics software for auditing how many people stay in a line at a cashdesk, point of sale, register, pay desk for how long. Analyze motion in zones where sensor based solutions are impossible or too expensive.
With a high ROI and a very fast payback time, our solution is used by brands, public institutions and international organizations alike. The information our people counting software provides is used at all levels of businesses, from planning front-line activities to setting overall strategy.
No extra hardware installation, devices, sensors, or specific IP camera models required.
One of the most popular use cases for Camlytics camera software is counting people waiting in line in a video stream, especially near sales counters. It can be a grocery store, mall - queue analytics is useful everywhere.
The solution relies on the camera system that was previously installed for surveillance, recording or any other purposes. You don't have to spend a fortune on sensors purchasing and installation.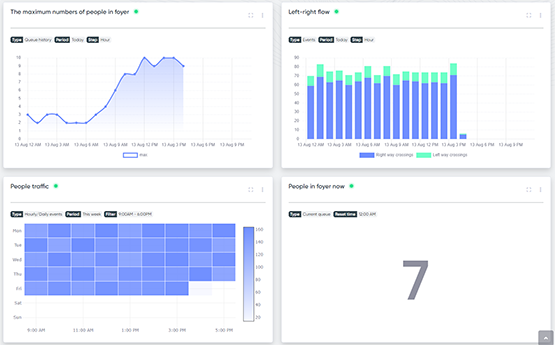 Any IP camera model with RTSP stream capability would be supported. Our software can work where sensor solution can't because of a much wider field of view in a regular camera compared to a sensor.
With this efficient feature you can monitor you cash desk employee activity, detect when empty cashier, know the average waiting time in line. You can even retrieve zone lifetime histograms based on the queue analytics events. To start queue counting, just select the Queue detection profile in the events profiles settings. All this makes a bunch of opportunities for your retail analytics solution.
Don't forget that you can run video analytics (people counting) on pre-recorded video files and folders and get huge batches of files processed unattended. All Camlytics products support events API and webhooks (you can receive such events, as Line crossed, Zone joined, Motion started, etc.).
If you are looking for a cost-efficient solution for queue management and don't want to waste your money on extra sensor hardware or any devices - look no further, Camlytics is a way to go.
Try for free
If you are looking for the software for vehicle counting, speed detection and vehicle type classification (pedestrian, car, bus, bike, van, truck), Camlytics is offering it as one of the solutions.
Check out our YouTube channel which has plenty of real-life video analytics demos.
Our clients