OOH Audience intelligence
Camlytics audience & campaign intelligence platform for Digital Signage and DOOH helps marketing agencies drive engagement and sales.
After digital advertising appeared, it was inherently easy to measure the success of ad campaigns: you would know exactly where, when, and how many people see your ads. You can quickly change campaigns if something goes wrong and endlessly test your theories.
Now marketers want to have the same opportunities with Out-Of-Home (OOH) ad campaigns. They want to collect the same metrics including time, location, impressions, etc. But how is this even possible?
Luckily, information technology has progressed significantly over the years. You can effectively measure OOH campaigns with our smart camera monitoring software, Camlytics without spending a fortune on it! Read on to learn about Camlytics IP camera based measurement, its benefits, and its features.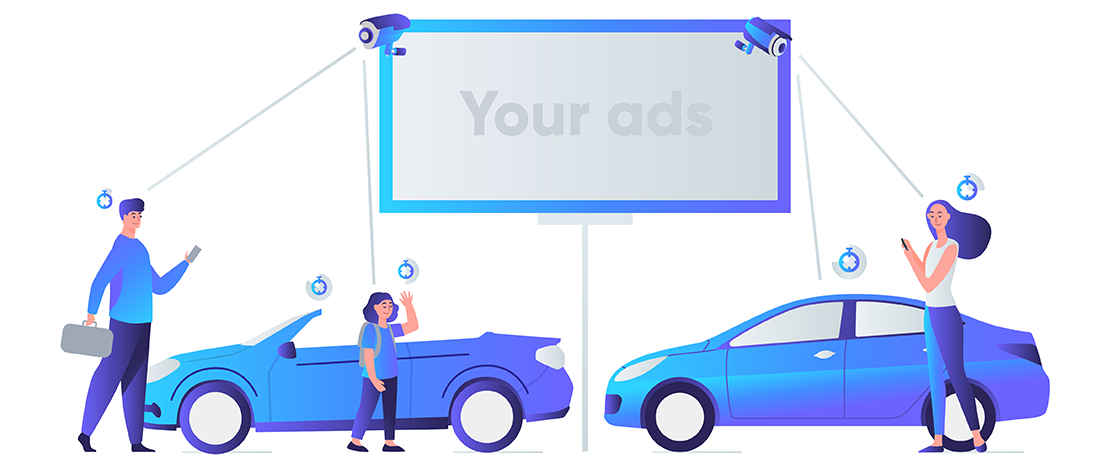 Using Camlytics for Digital Signage & Ad Campaigns
Camlytics is a platform that combines camera monitoring, surveillance, and space analytics. You just add the software to the existing camera system (any network or web cameras) and let the technology do its magic: get real-time data on people and vehicles, and study reports about OOH ads' success. With the help of Camlytics, you will be able to perform the following actions:
Measure Number of People and their Behavior
With Camlytics you can get access to various data that helps you learn whether your ad was attractive enough to catch the eye of passers-by and test what ads work best. Here's the list of Camlytics' features you can benefit from:
Know what number of people passed your billboard
Learn what number of people actually saw your ad (walked in particular direction)
Measure the duration of time for which people tend to observe your ad
Find the duration for which people tend to stay in defined zones
Get a time breakdown on what number of people were in a zone (for example, 60% of the time there were 3 people, 20% there were 2 people, 20% there were 0 people)

Monitor Location Occupancy & Heatmaps
If you are not sure whether the location is worth the money, you can analyze its occupancy: how many people there are now, history of occupancy, its peak hours, the maximum number of people, etc. Heatmap feature is useful to find spots where people tend to stay the longest.

Measure Number and Types of Vehicles
This feature will help you to detect what types of vehicles have passed through your advertisements and eventually measure the ad's success. With Camlytics, you will be able to analyze how many vehicles are exposed to your ad each hour/day/week, when the part of the road becomes the busiest, and what lanes are mostly used.

The breakdown by vehicle type can be detected as following:
Detect Faces and collect Age and Gender Statistics
If you set up the camera to view your visitors faces, you can easily get the instant statistics on your audience gender and age. Moreover, you can use standard tools like counting lines and heatmaps to get more insights into how people move within your camera frame. All statistics is anonymous - there is no face recognition and we do not store any of face images on our servers, so your visitors privacy is secured. You can check the demo of face detection stats here.

Benefits of Using Camlytics
Camlytics offers a wide range of opportunities in the ads industry. There is no need to be unsure about your OOH ad campaigns' performance anymore: enjoy all the benefits of digital ad networks and their broad reports.
Real-Time Analytics
Camlytics can be used with any video source including an IP camera, a webcam, or even a video file. Just connect the software and start receiving the freshest updates about your ads' performance. The main advantage of real-time analytics is the ability to fix any arising issues before they blow up. It is also a great chance to test and use the insights in your further ad placement and creation.
Ability to Evaluate the Current Reach of Your Ad Campaigns
If you want to know whether your ad calls to action and pulls in the revenue, analyze your current reach and compare it to the current revenue. Learn more about your ROI to find ways of maximizing it and not repeating the old mistakes.
Ability to Adjust Ad Campaigns for the Best Results
The best advice of advertisement is to test, analyze, and optimize constantly. You may have lots of data-driven theories but they might end up being different from real life anyway. With Camlytics, you will be able to test different locations and ad copies, analyze the performance and response of each and optimize the campaigns as you go.
Variety of Customization Options
Camlytics allows you to build fully customized reports, adjust dashboard settings, add APIs, and also has embedding, sharing, and webhooks capabilities. With the variety of customization options, you can avoid information overload and focus only on metrics that matter the most.
Data Privacy Guaranteed
100% data confidentiality is our top priority as neglecting it can lead to reputational damage. That is why all video stream processing and analytics happen on-premises. We also utilize Zero-Knowledge Technology, so only anonymous text metadata is being stored on our cloud servers.
Case Studies
Camlytics is a reliable smart solution that will give you the ability to analyze OOH campaigns in real-time, test, and optimize campaigns without compromising customers' identities.
Case Study #1
Our client Vestel is a consumer electronics distributor that wanted to increase the efficiency of their marketing efforts. To reach this goal, the company has chosen Camlytics and set up hundreds of cost-effective camera measurement solutions in their chain stores.
After a while, the client reported a significant increase in the stores performance since they were able to make adjustments according to the traffic flow.
Case Study #2
Our other client is Latinad, a platform for buying and selling advertising spaces on public roads in Latin America. They help digital billboards owners manage all the screens from one place and control their performance to reach maximum revenue.
Latinad utilizes Camlytics to collect information about the effectiveness of each billboard and thus optimize the ad campaigns for the best efficiency.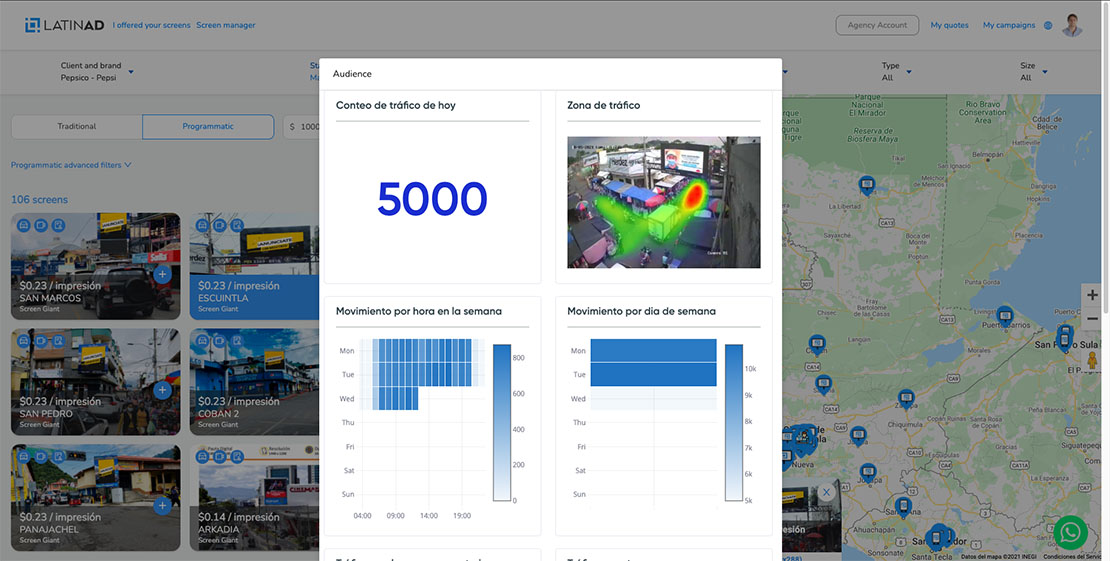 Do you want to get the most out of your OOH ad campaigns? Do you crave camera measurement that does not require a huge investment? Leverage the success of your advertising strategy with us! View the sample live demo site (see below), download the software for free trial or reach out to us if you have questions!
Check out our YouTube channel which has plenty of real-life video analytics demos.
Our clients